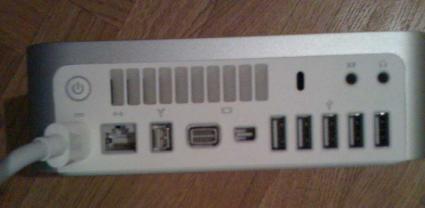 Both MacRumors and AppleInsider got this image.
The original leaker also claimed the following specs:

- Intel Core 2 Duo
- 2GHz
- 3MB L2 cache
- 2GB RAM DDR III, 1066MHz
- Super Drive is SATA

The port configuration is consistent with previous rumors that the new Mac mini would bring improved specs. Specifically, the new Mini was described to have 5 USB ports, FireWire 800, and two Display ports (Mini DisplayPort and Mini DVI). All these can be found on the leaked photograph.
New to Josh's Blog? Make sure you follow my
RSS feed
so you don't miss anymore great stuff!