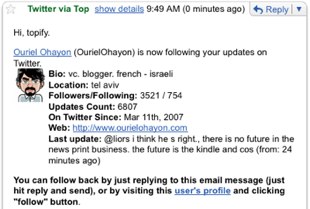 Topify
basically does 3 things with your Twitter account within your email, without even going on the Twitter website. If you're the Power Twitter user, this is your serious power tool and time saver.Topify was created by two former TechCrunch France employees, Ouriel Ohayon (@ourielohayon) and Arik Framovitch (@arikfr).
1. First of all, they create better notification emails when some one follows you. The improved email is seen below: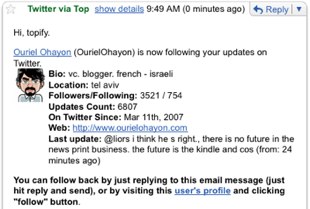 The email now shows Following/Followers stats, their Display Image, Bio, On Twitter Since, Updates Count, their Website and their Latest Update, versus the original Twitter one, which only told you your new follower's name and username (e.g. only @
Joshlam
and Josh Lam).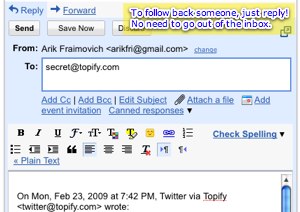 2. Awesome. I want to follow this guy who just followed me. Do you need to go all the way to twitter.com, sign-in, go to the guy's profile page, and click follow? Well, with Topify, you don't have to. All you need to do is to reply to the email. Simple, Easy and Smart. Now why didn't Twitter think of this before?
3. How about Direct Messages?
I just followed this really cool guy on Twitter (I know, it's @
Joshlam
) and he told me I was awesome :)
Topify makes it really easy to reply to Direct Messages. Once again, all you need to do is to reply to the Direct Message notification email.Done.
So, to conclude, Topify may be simple, but has to be a great shortcut, especially if you're a Power Twitter user.
Topify is currently in private beta. So how do you get into the action then? :(
Well, as a lucky Josh's Blog reader,
you get EXCLUSIVE invites to Topify
. Just
click here
. 100 Invites only!
If you're on Twitter, follow @
Joshlam
as well for Josh's Blog updates, exclusive Beta Invites and cool freebies! :)
New to Josh's Blog? Make sure you follow my
RSS feed
so you don't miss anymore
great beta invites
!